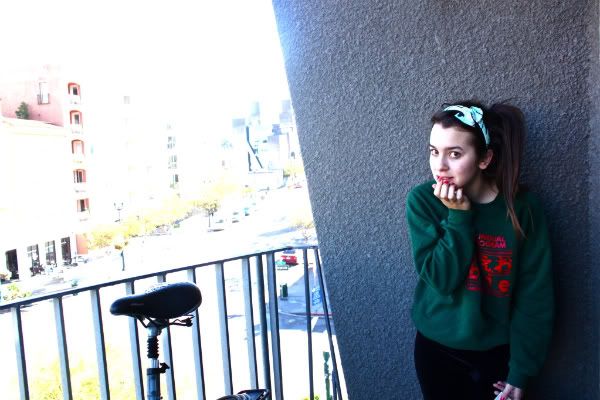 Some slightly boring pictures from last weekend. I was aiming more for comfort than anything (I also look a little funny in the second picture). These leggings are the most comfy things I've put on in a while, and people were stroking my legs all day when I wore them to school.
I think I'm going to put close ups of the records more regularly now. A lot of the time you can't fully see the details in my pictures, which makes me angry because most are so cool to look at.
Vintage sweatshirt permanently stolen from dad, American Apparel velvet leggings and headband.
Listening to: Exile on Main Street-The Rolling Stones. Favorite track: Tumbling Dice. According to Chris Epting in his book Led Zeppelin Crashed Here, this song is the #1 roadtrip song. It's definitely worth a listen (well more than just one listen for sure, it's an amazing song). The whole album is really good, and I actually just listened to it for the first time a couple weeks ago which is weird because we've always had it