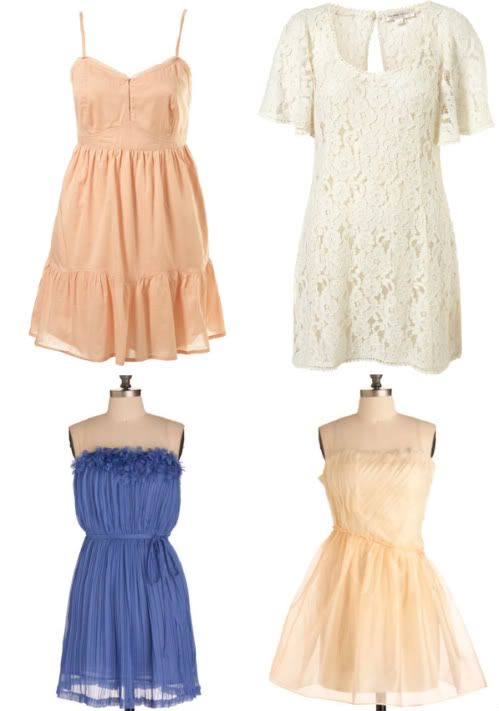 Clockwise, from top left corner:
Topshop
,
Topshop
,
Modcloth
,
Modcloth
. I've been feeling very whimsical lately, and I just want to dress like a woodland fairy all the time. I've also been loving these colors lately, probably because I barely have any of them in my closet.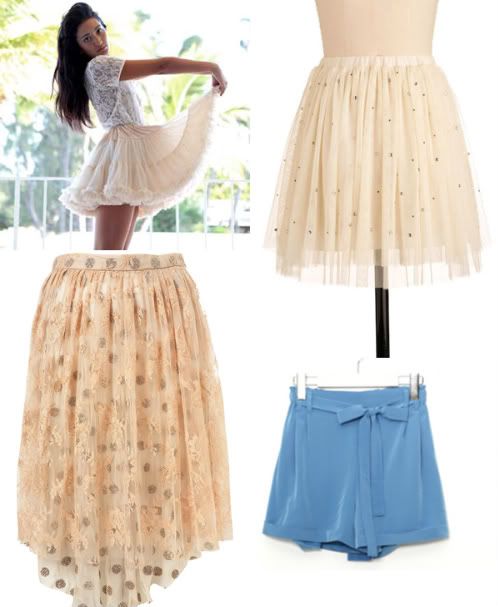 As you can see, the color palette of these clothes is...almost exactly the same as the dresses above. I did that on accident for the most part. Maybe the little touch of blue reminds me of the ocean.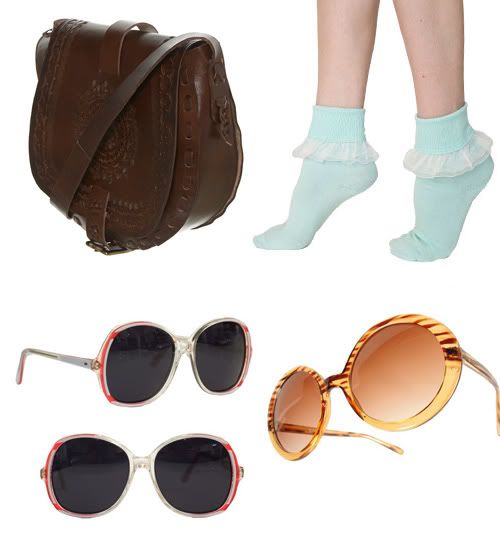 Topshop
,
American Apparel
,
American Apparel
(vintage),
Etsy
. I've been wanting a bag like this for a while now. This one is a bit pricey and I've seen a lot of similar vintage ones at the flea market in LA, I just never have enough money with me. I'm definitely going to get one this summer.
I've been wanting those socks for months, and I desperately need some new sunglasses...
Free People
,
Free People
,
Topshop
. Wooden platforms are on the top of my list at the moment. I probably look at the second pair everyday, no joke. After I saw The Runaways I wanted some wooden platforms instantly. They have such a perfect 70s feel. As much as I LOVE Jeffrey Campbell, I would rather not spend so much on shoes. Hopefully I can find some vintage ones for cheaper...I can even paint the leaves on.
I've also been wanting some oxfords, I just never got around to buying any. I like the lace on these too.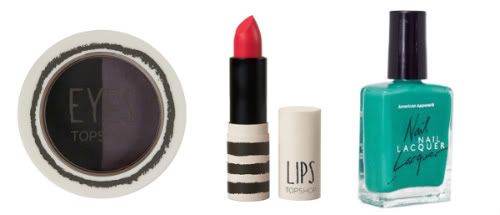 Topshop
,
Topshop
,
American Apparel
. Is it only me that's been eyeing the Topshop makeup collection? And is it only me that played around with their virtual makeover? I made my picture look ridiculous by piling on black mascara and eyeshadow and lipstick and had so much fun doing it. I recommend it for a time waster.
And I've heard a lot of good thins about AA's new nail polish. They have some wonderful colors!
Lastly, I've been wanting Led Zeppelin III and Help! on vinyl for probably a year now. These records are one of the couple I need to complete my Beatles and Led Zeppelin record collection.
As you can probably tell from the title of my post, my birthday is coming up, July 11th! I'll be sixteen. These are a few of things I'm hoping the birthday fairy will deliver, or that I'll maybe buy with birthday money. I do know for sure that on my birthday I'll be going on a vintage shopping spree and getting a free slurpee from 7-11! I'm excited.
Speaking of exciting things...yesterday was my last real day of school! I just have to go on Wednesday to do my final presentation, and then tenth grade is officially over. Hopefully it gets sunny today so I can head down to the beach