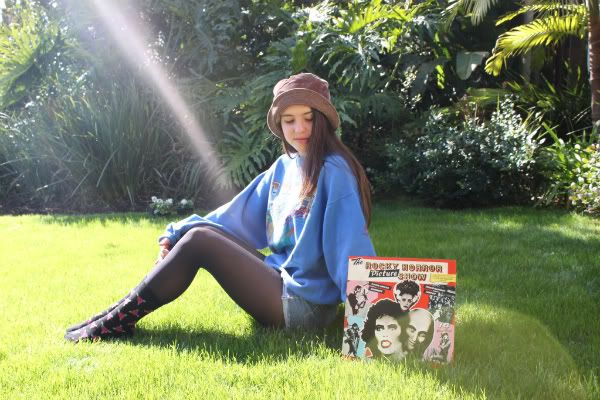 Vintage sweatshirt, hat, and Levis, Betsey Johnson socks. This is definitely a lazy outfit, but I like the color of the sweatshirt (borrowed from Nora), and also the lighting in these. One of my friends told me I'm "not shoeless enough" so I took off the flats I originally had on just for him.
Listening to: Rocky Horror Picture Show Soundtrack. Favorite track: Touch-a, Touch-a, Touch Me. I went to the midnight showing of this in LA a few months ago and it was a very strange (but fun I suppose) experience. I'd like to see the movie again without people yelling the entire time.
I'm really looking forward to the weekend. I'm planning on staying plan free and spending my time making a dress, thoroughly cleaning my room, and learning to drive stick. I recently got my permit, it's pretty exciting!